Shweta, Soumya, Sushmita and Anindya
The plan was to finish the photo shoot and release it soon. Corona was left out of the will of the production company. The lockdown took place soon after the shooting of 'Prem Tame'.
Anindya Chatterjee has set foot in SVF with this film. Soumya Mukherjee, Sushmita Chatterjee and Shweta Mishra, who made their debut with 'Prem Tame', were terrified of their careers. The film is finally being released on the eve of Valentine's Day after overcoming the extreme. Anindya, however, says that she was able to do post-production with time due to being late. The director gives a chance to new faces in each of his films. Isn't that a risk? "The casting has been done as per the demands of the screenplay," he said.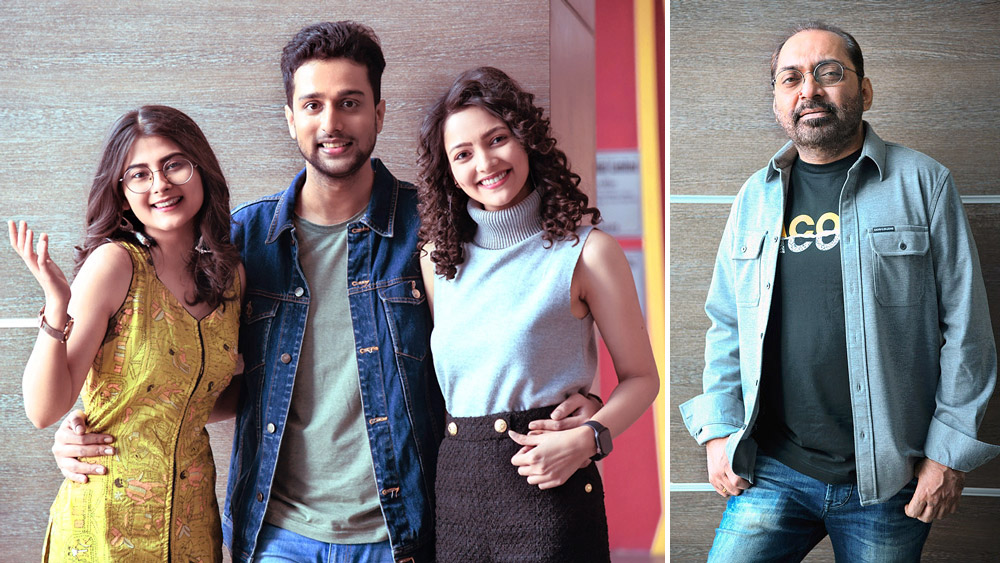 The passion acting of the three newcomers in the film. Shweta, who plays Arshi, starred in the serial 'Jahanara' after graduating from Botani. He said that he wants to make acting his career. Razi alias Sushmita got the offer of the film due to its advertisement at the national level. How is Asansol's daughter's journey to Tollywood? "I wanted to act since I was a child.
But as is the case in middle class homes, my parents wanted me to finish my studies. After passing engineering, I went home with a job offer letter and said, this time let me follow my passion for acting. Given two years from home. It became 'love tem', "Sushmita said with a smile.
Saumya was invited to audition after seeing the work of advertisement like him. Jadavpur University's International Relations student left the Masters in the middle. "I quit reading at my own risk. Now I am thinking about acting, "said Soumya.
Which way of career
Entertainment industry means risk. On top of that, the situation has become more complicated. The time of lockdown was very difficult as the picture was stuck. "I was really scared about the future," he said. I used to call Anindya Sir every week. But it was bigger than that, the thought of survival. Both parents are elderly. So that time was really bad.
" Soumya said that he is going to make a new picture. Sushmita said, "We have to deal with incidents like Atimari by setting foot in the industry. At the time, I was thinking more about the struggle for survival than about my career. "
Such as love
What do the actors who made their debut with love pictures say about love? According to Shweta, "Love is not exactly defined. I love being together in everything. "Shweta admitted that she is in a relationship. Soumya's WhatsApp DP says, don't want to keep love secret.
In his words, "Love is unconditional to me." Sushmita also speaks of unconditional love. "Not only that, love means sacrifice. Many will be surprised to hear these on the face of someone of my generation. In fact, I'm old school, "he said. Turns out, he's single. There was a love affair in college but the relationship did not take root due to the other's betrayal.
The director of the film thinks that this is not the time of love. "It's an eternal feeling. Outside changes have taken place, we used to write letters, they do whatsapp. The language of love has changed. But the sanctity of love has been and will be in all generations, "said Anindya.
For more Exciting Trendy news, follow us: Trends
Twitter: Bongoalankaar | Facebook: Bongoalankaar | Instagram: Bongoalankaar